CSSOPE 2015 - Parts of Exhibitors Preview
BonLok International AME Inc
BONLOK® represents a new standard in the era of high-pressurized pipe connection technology. Swiss Engineered and German Lloyd Certified, Bonlok® is cost effective, saves installation time, and is a 'cold-work' process. Installation is green, easy and leaves no carbon footprint, improving productivity and promotes a safer and healthier work environment. Bonlok® cuts installation time by up to 70% and is proven to connect pipes 10 times faster than the current welding procedure. Manufactured in our world-class facility, Bonlok® International distributes from our offices in North America, Europe and the Asia Pacific. Providing the world with the safest, strongest and largest product range in the industry. [Booth # 133]
Stellar Tube & Pipe Group Co., Ltd.
Started as a manufacturer and seller of stainless steel seamless tubes & pipes, and now we are becoming a comprehensive enterprise integrating developing, productions, and operation, whose main products include stainless steel seamless tubes & pipes, stainless steel welded pipe, fittings and nickel ore resources. And the number of its wholly-owned subsidiary companies has been expanded to 10. Stellar is specialized in producing of stainless steel seamless tubes & pipes, stainless steel welded pipes and fittings. Our products are widely applied in petroleum, chemical industry, machinery, power, shipbuilding, pharmacy, food and aviation& spacecraft, etc. The domestic sale network is almost across the country. Stellar is establishing its worldwide market steadily and strongly, such as Europe, America, Japan, Korea, Southeast Asia, the Middle East and etc. [Booth # 135]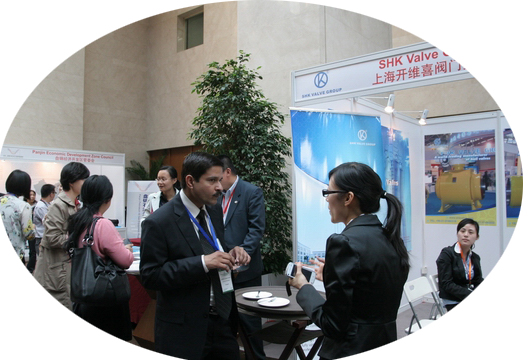 SHK Valve Group Co., Ltd
SHK Valve Group Co., Ltd (referred to as SHK), founded in 1993, focuses on the technology development, production, sales and engineering technical service of high end valves in the industrial process of petroleum, chemical and coal chemical, and now it is the leading integrated supplier of technical service and manufacture for severe service valve in China. [Booth # 119]
Zhejiang Flowtech Machinery CO.,Ltd.
People has a saying going as "Made-in-China transforms to Creation-by-China", then FLOWTECH is the right one of members. "FLOWTECH is a portion of China, also belongs to the world." So thinks everyone at this company. This great idea comes from the fierce market competition and enterprise's rapid development. The competition in every field of society has become fiercer day by day and worldwide class resource fight is upgrading. How to become a member of this line and win world's trust? FLOWTECH hereby declares further dynamic advancement of valve engineering and manufacturing through the reinforcement of its power of competition through continuous technical development, innovation and collaboration with the advance technical professionals all over the world. We called it "Globalization of valve business". ZHEJIANG FLOWTECH MACHINERY CO., LTD whose fore name is WENZHOU VETZ VALVE CO., LTD has more than 15-year experiences as a specialized company of manufacturing all kinds of Petrochemical valves, Pipeline valves, Marine valves, DIB Valves and Mineral valves as per API, BS, DIN or other international standards. Through many years' hard management,FLOWTECH has won a high reputation from the civil and oversea customers by supplying high quality products. [Booth # 132]
SANBORA Valve Co., Ltd.
SANBORA Valve Co., Ltd. is a professional company in design and manufacturing quality valves for industrial and commercial applications. Industrial served primary include Oil & Gas, Chemical, Refining, Petrochemical, LNG, Cryogenics and Water treatment processes. Company headquarter is located in Jinshan District, Shanghai. We have three manufacturing plants, located in Suzhou, Yancheng, Baoshan District. We have more than 10-years' experience in R&D and manufacturing field, committed to improve manufacturing capacity and innovation of special valve. Our goal is to solve the problems from all industries and provide solutions to end users. We approach to be a world-class valve manufacturing company. We have 6 categories with thousands of varieties of valves. Except for basic valves, we develop high-level ball valve, special valve, high-temperature and pressure valve, low-temperature valve and control valves. Our products are widely used in minery: High temperature more than 1700℃,high pressure(15000PSI),low temperature(-196℃). SANBORA has a world-class automatic production line equipped with CNC machine tools, NC multistage machining center, NC ball machining center, large-scale vertical lathes and drilling machines etc. We also have many advanced inspection and testing machines, such as NDT, optical spectrum analyzer, 3 coordinate measuring machine, ultrasonic painting machine, heat treating machine, low leakage testing machine, fire-proof testing machine, service life testing machine, cryogenic testing machine etc. All of these machines have strengthened our ability a lot in processing and testing, and enabled us to stabilize the quality of our valves. What's more, they can support us in developing new products for the harsh industrial conditions, and also allow us to provide the mature and stable high-quality products. [Booth # 131]
Kerui Group
Based in Dongying, where Shengli Oilfield, China's second largest oilfield, is located, Kerui is a professional and international industrial group committed to petroleum equipment, EPC turnkey projects and oilfield service. Based on over-50-year large-oilfield development experience accumulated in Shengli Oilfield, Kerui has unique advantages in terms of technology, talent, R&D and other aspects. A Chinese Enterprise Leading in Comprehensive Oilfield Solutions Globally With the business covering petroleum equipment R&D and manufacturing, technical service of oilfield integration engineering, EPC turnkey projects and other areas, Kerui is one of the largest equipment manufacturers, technical service providers and oil & gas production and processing project contractors in the field of oil & gas exploration and development in China. At present, Kerui, as a Chinese enterprise, has become a global leader in comprehensive oilfield solutions. [Booth # 136]
Shanghai MECCO Valve Co., Ltd
Established in 2001, located in Jiading district of Shanghai, Shanghai MECCO Valve Co., Ltd is a production company specializing in the production of valves,Research & Design, manufacturing and after market service. MECCO has 230 employees, takes space of 58,500m2, including 35,800m2 of construction area in which 26,300 m2 of working shop. MECCO's current available annual output is 280,000,000 RMB, and our current production capacity is about 8,000 Ton valves with different materials. There are over 230 sets facilities owned by MECCO, such as CNC machines; 3.5m & 2.5m Vertical Lathe for metalwork processing; 2 sets Plasma-welding equipment and 4 sets High-Temperature heating furnace, and other machining and treatment equipments. We can also perform specialized testing such as Impact testing, Tensile strength, Hardness, Magnetic Particle Inspection, Penetrate Inspection, Chemical analysis, Ultrasonic Testing, X-Ray Testing , Spectrometer, PMI( portable spectrum analyzer), Helium mass spectrum , Cryogenic treatment equipment , and 15 sets hydraulic testing equipment for pressure and leakage testing. [Booth # 130]
KCON VALVE MFG. CO., LTD.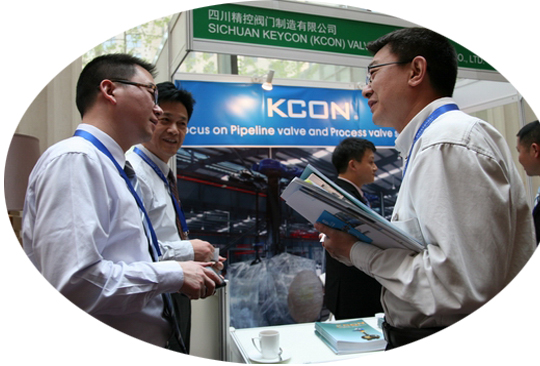 KCON VALVE MFG. CO., LTD. was established in 2001, the shareholders and its work team are professional and experienced in valve field for many years, it focuses on the design and manufacturing of full range of pipeline valves for Oil & Gas pipeline project and process valves for Petrochemical, Refinery and Chemical industries. After more than 13 years of continuous improvement and stable development, KCON VALVE has accumulated rich engineering experiences and references in Oil & Gas,Petrochemical,Chemical and other industry fields, and become the core supplier to lots of large state-owned enterprises as diverse as Petro-China, SINOPEC,CNOOC, SHENHUA and SINOCHEM etc, now we have received following certifications respectively approved by government and authority [Booth # 126]
Zhejiang Bnjis Stainless Steel Co.,LTD.
Zhejiang Bnjis Stainless Steel Co.,LTD is located at Jingang Industrial Zone,Longquan city,Zhejiang Province.Taking a land area of 33.000㎡.Our company is a large-sized stainless steel pipe manufacturer with a registered capital of RMB50.08 million Yuan and a total investment of RMB 100 million Yuan. It is planned to produce annually 16.000 tons of stainless steel seamless pipes and 8.000 tons of stainless steel welded pipes and achieve an annual output value of RMB 500 million Yuan.Our enterprise is a large-size enterprise specialized in producing and selling industrial stainless steel pipes of various materials and specifications.Our company pays much attention to continuous upgrading of technological equipment and R&D work of new products,striving to meet market demands in the second phase project in 2011,we have successfully developed large and mediun-sized stainless steel pipes for industrial use. We have the world's advanced automatic welding production lines.The products are formed once,reaching level 3 of flaw detection. [Booth # 151]
Tianjin United Steel Pipe Co.,Ltd.
Our company has advanced equipment including HFW(high frequency electric resistance straight seam welding) machines, vertical cutting machines, on-line and off-line ultrasonic testing machines, ends chamfering machines, and hydrostatic testing machines, etc, and also has a first class inspection & test center.Our annual output of various steel pipes are reached 500,000MT, which include casing, tubing, and line pipes for explorating petroleum and natural gas, fluid transmission pipes for high and low pressure transmission, drive shaft pipes for motor vehicles, and piling pipes and structural pipes for different constructions. We can supply you high quality products according to various domestic and international standards like API SPEC 5CT, API APEC 5L, ASTM A53/A53M, AS/NZS1163, AS/NZS1074, EN10217, EN10219, EN10255, GB/T9711.1, GB/T9711.2, GB/T3091, GB/T13793, GB/T19830, YB/T5209, SY/T5768, etc. Our products are widely used in various industries like petroleum, natural gas, shipbuilding, motor vehicles, chemical, environmental protection, boiler, water conservancy, electricity, machinery and equipment, steel structure, and construction, etc. Our products have been sold in 28 regions of provincial, or municipal, or autonomous level in China, and exported to other countries, and regions abroad like North America, Sourth America, Europe, Africa, Oceania, Middle East, Southeast Asia, etc. [Booth # 127、128]
Hengyang Valin Steel Tube Co. Ltd.
Hengyang Valin Steel Tube Co. Ltd. (hereinafter referred to as HYST) is a subsidiary of Hunan Valin Iron & Steel Group Co., Ltd. founded in 1958, is one of the seamless steel tube & pipe enterprises with the most entire rolling mills, advanced equipment and complete product specifications whose production scale has been tanked the globe fifth by "Metal Bulletin" US. Its export volume has continuously kept the leading position in China seamless tube & pipe industry for dozen years. It is a national high and new-tech enterprise which is the first to pass the State Intellectual Property Management System Certification and one of the first among 45 steel standardizes enterprises audited by "Steel Industry Standard Condition" of MIIT. It has 5400 employees with total assets of 13.4 billion Yuan. [Booth # 153]
For more exhibitors, please click here!